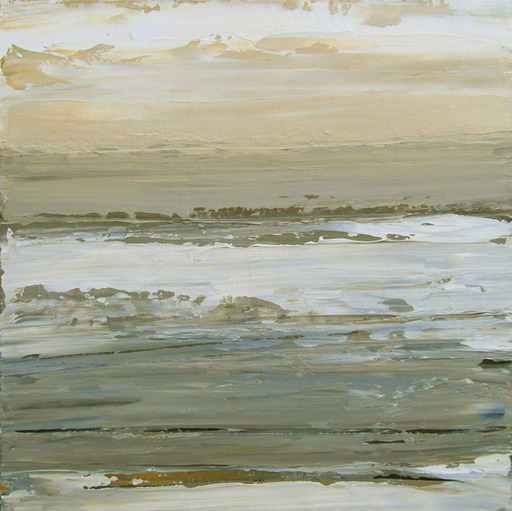 Introduction
Welcome to my website. Let me first introduce myself. I was born in 1953 in Zaandam (near Amsterdam), the Netherlands and now work in Alphen aan den Rijn as a visual artist. After a part-time scholarship at the Rietveld Academie in Amsterdam, I followed several courses to develop my painting skills and also the application of all kind of materials.
Typification of my work
My work is predominantly abstract. Fascinated as I was by the powerful character of old and weathered materials (walls, steel, earth) and the process of wear and the discolorations as a result of this ageing, I have in a sense magnified this theme. For a long time, the detail was the central aspect in my paintings.
There was, however, a change by the middle of 2009: detail has been replaced by space. The need for this change was created by working in large facets, with the elimination of detail. Not knowing what the result would be, a new landscape developed: a flat land with an endless diversity in light, colour and shape. Clear contrasts and subtle colour transitions manifest themselves. The splendour of space and the line pattern in this space has now captured my attention.
Moreover, a new development arose several years ago. What initially seemed like a one-off excursion (project 'passersby'), has become an intrinsic element in my work: portraits in Indian ink. This series of portraits resulted from my frequent studying of faces and my fascination for the personality of the person behind the face. The faces emerge from both memory and fantasy. They are, without any hesitation whatsoever, 'inked' onto paper, in which expression and emotion determine the portrait's nature.